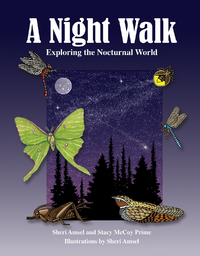 From the beginning of time, humans have sought safe places away from the dark of night. From our snug homes to a circle of firelight, we sense in our bones the danger of being out after dark. I have often thought about this as I walk my dogs at night under the stars. On clear nights, I glance up and find the big dipper and then the Pleiades, the seven sisters star cluster. Blue and hazy if viewed directly, I glimpse it peripherally with wonder, feeling small and insignificant next to its vast expanse and yet comforted by its consistency. In a changing world, these stars have always been out there, in a familiar place, like a touch stone.
The surrounding field and forests, so familiar in daylight, are less comforting at night. Our eyes are not adapted for darkness and there can be a lot of sounds to process. The calls of peepers and crickets are soothing and familiar. The sudden hoot of a barred owl or chuff of a white-tailed deer, though momentary startling, still feel welcome. A yipping chorus of coyotes down in the swamp can raise a shiver, though we know they are no real threat this close to home. Even on a full moon night when we can see well enough to walk unaided, a loud crunching in the forest nearby is enough to make me walk lively back toward the house.
Yet the outdoors at night have yielded some of my most amazing and treasured memories; the discovery of black bears feeding in our apple tree one autumn night, lying under the stars in the grass with our kids during the Perseids, watching meteors with flaming tails fly across the sky, an unexpected and spectacular show of northern lights one winter night, chasing fireflies across the field with the echo of children laughing all around us, a walk through the dark forest on Halloween to show the kids some fairy lights I'd hung in the trees only to witness the rising of a huge, orange, full moon followed by the howling of coyotes.
This dichotomy between the dark mystery and wonder of the night has always occupied my thoughts. I like to go outside at night, but how far from the lights of home can I go and still feel safe? Then one day, my talented daughter-in-law came up with a story idea that rang all my bells. A Night Walk. It is about taking kids outside at night to discover the unexpected and astonishing creatures that can be found in the dark. I added little creatures to find in the illustrations to mirror our search for things outside in the dark.
In sharing this book, or a real night walk, with your kids, I hope your sense of wonder is ignited, along with just a trace of dark mystery.
ANightWalk.com