Welcome to Exploring Nature Educational Resource — an award-winning website with natural science content and materials for educators, students, and parents.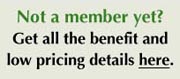 About This Site

Exploring Nature Science Store

Author Visits, Field Trips, Prof Dev

Exploring Nature BLOG

Contact Us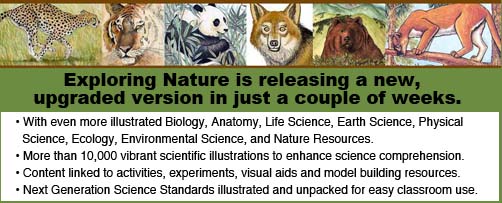 Link to Exploring Nature from your
School Website using this great graphic: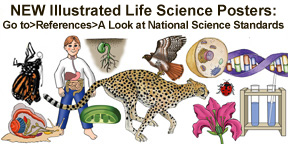 Students can use the animal databases to research animal reports, complete homework assignments, and find pictures of their favorite animals. They can learn to draw animals, work on vocabulary with word searches or just have fun doing mazes and watching wildlife movies. Parents have a resource for helping their children do online research and complete school assignments. They can choose from the dozens of science activities for educational and creative rainy day pastimes.
Librarians, classroom teachers, and homeschoolers can use Exploring Nature to develop lesson plans for units on animals (mammals, birds, insects, spiders, sharks, fish, amphibians, reptiles, etc.), plants (wildflowers, trees, cacti, etc.), biomes (forests, deserts, oceans, polar regions, rain forests, wetlands, the tundra, etc.), adaptations (structure and function), farm animals, life cycles, food webs, ecology, the human body, genetics, space and the environment.
Funding your Exploring Nature Subscription
Different states and regions have different procedures, for example:
NYC Teachers can now find us on

FAMIS #SHE572288

In Upstate NY we are funded by

BOCES CoSers

(504 and others)
For the Dallas ISD in Texas:
- Our Vendor Number is:

50195


- The Instructional Materials RFP is: 203558
Ask your district purchasing department have Exploring Nature added to your district's Approved Vendor List, email us or ask your purchasing department to add us.
Educators are encouraged to send in requests for more science topics and species that they would like to see added to the website. Exploring Nature was developed to meet the natural science needs of educators and students. Tell us what you need!